Attention A T users. To access the menus on this page please perform the following steps. 1. Please switch auto forms mode to off. 2. Hit enter to expand a main menu option (Health, Benefits, etc). 3. To enter and activate the submenu links, hit the down arrow. You will now be able to tab or arrow up or down through the submenu options to access/activate the submenu links.

Dietetic Internship Program
James J. Peters Bronx VA Medical Center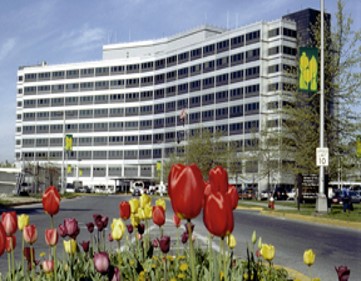 The James J. Peters VA Medical Center Dietetic Internship was first established in 1946. After a period of closure during which a new hospital building was constructed, our program was re-established in 1982. Our program is known for producing highly skilled clinicians ready to immerse themselves within the healthcare industry and improve the lives of their patients through evidenced based interventions. The VA is the largest employers of dietitians in the nation and our internships offer excellent career opportunities, networking potential, and incentives.
During the program, students participate in a variety of learning experiences: clinical dietetics, food service systems, clinical management, pediatrics and community nutrition. The program is affiliated with a numerous hospital, community, clinical, and institutional sites throughout the area.
PROGRAM HIGHLIGHTS
A 16-month MS/DI Program. Supervised practice portion includes 49-weeks with concentration in Medical Nutrition Therapy (MNT). A minimum of 19-graduate credits in Clinical Nutrition taken at New York University (NYU) during the supervised practice year and the remainder of graduate coursework completed in 1 additional full-time semester.
Successful 1-year pass rate for CDR examination at 100%.
Intense and immersive program offering rotations in clinical, community nutrition, and food service management. Clinical rotations include oncology, renal, spinal cord injury and disorders, outpatient pediatrics, GI disorders, and bariatric surgery to name a few!
One-on-one time with preceptors.
Program Calendar 2023-2025 for more information.
WHY CHOOSE US?
Stipend- Dietetic intern will receive a stipend awarded by Office of Academic Affiliations (OAA), paid bi-weekly, for 49-weeks!
Individualized Attention from Preceptors

During clinical rotations, you work one-on-one with an RD.
The preceptors challenge but don't overwhelm you.
The preceptors are knowledgeable and enthusiastic about precepting interns.

Professional Respect and Enhanced Scope of Practice- Registered Dietitians in the JJPVAMC can change and order therapeutic diets, order labs for their patients and are the only medical professionals here who can order liquid nutritional supplements (i.e. Ensure, Kate Farms) for inpatients or outpatients.
Team Approach to Patient Care- Physicians and staff are receptive to questions and your evidenced-based recommendations are usually implemented.
Computerized Medical Records- easy access your patient's medical record from your desk.
Possibility for Future VAMC Career- VA is one of the largest employers of dietitians in the country and we love to hire our interns and graduates!
Non-competitive, Friendly Atmosphere

The hospital staff welcomes questions and helps you feel at ease from the first day of the DI.
Opportunity to form lasting friendships with other interns.

NYC Location- Rotations are accessible by public transportation.
Transportation-The VA may contribute to some of your Metro Card costs if you take public transportation to work and do not live on-site.
There is free parking at the VA for interns who choose to drive.
Intern Office with Personal Desks, and Computers with High-Speed Internet Access- each intern gets their own desk.
NYU Education

Our Combined NYU MS/JJPVAMC DI will allow you to earn a Master of Science in Clinical Nutrition in just one additional full-time semester at NYU, one of the most well-respected universities in the country.
NYU provides the benefits of a large university while the nutrition department provides personalized attention, allowing for a smaller school feel (the best of both worlds!).

No GRE is required.
On-site, co-ed housing for interns offered on a first come, first serve basis at a low monthly rate during the supervised practice portion of the internship.

GRADUATION AND PROGRAM COMPLETION REQUIREMENTS
Internship policies require that each intern is responsible for the following in order to qualify for successful completion of the dietetic internship and to participate in graduation ceremonies:
Complete the scheduled 49-weeks of supervised practice experiences through a demonstration of entry-level ability in all ACEND-required competencies.

Complete at least 19 credits of graduate-level coursework in clinical nutrition at New York University (NYU) during the 12 months of the DI program and finish subsequent graduate coursework in one semester following supervised practice completion. Visit NYU Registrar for more information. Note: dietetic interns who hold a Master of Science in Clinical Nutrition (or similar) prior to the start of the DI, will be considered as fulfilling their graduate degree requirement through an assessment of their prior learning and would therefore not be required to apply and complete a Master of Science in Clinical Nutrition at NYU.

Maintain a minimum cumulative grade-point-average of 3.0 for graduate coursework at NYU.

Report for duty prepared to begin work at or before scheduled time.

Attend each rotation fully prepared. Complete all assignments and projects by established deadlines. Satisfactorily complete each rotation.

Complete 4 weeks of staff relief experience with an overall competent performance rating based on established criteria.

Provide evidence of attending at least 15 continuing professional education credits (CPE) of conferences, in-services, case presentations, and debates (excludes graduate course work) during the 12-month internship. Every dietetic intern is required to attend at least 1 outside professional meeting (e.g. local dietetic association event) during the DI. Continuing education credits may be obtained virtually given COVID precautions.

Attends all scheduled workshops, seminars, field trips, and class days during the DI. Make-up work is required for any missed days.

Starting for class of 2023-2024, following the completion of all ACEND-required competencies during the supervised practice program, dietetic interns must also complete their Master of Science in Clinical Nutrition from NYU to receive their DI Verification Statement. Dietetic interns who already hold a graduate degree in clinical nutrition (or similar) will receive a DI Verification Statement once all ACEND-required competencies are met through the supervised practice program. No waivers based on previous experience will be granted to any student for any portion of their supervised practice program at JJPVAMC.
Note: VHA employees (including Health Professions Trainees, i.e. dietetic interns) are required to be fully vaccinated and demonstrate proof of COVID-19 vaccination, among other required vaccination for healthcare professionals. Exceptions to COVID-19 vaccination are considered on a case-by-case basis, and those with exceptions must comply with workplace safety protocols (i.e. appropriate masking and testing). Possible vaccine exceptions cannot be determined prior to appointment. Please note: Affiliate sites require proof of COVID-19 vaccination. Vaccination status may impact a dietetic intern's ability to successfully complete planned rotations, either onsite at the hospital or our affiliate sites, and New York University coursework. Inability to complete rotations and NYU coursework may result in inability to complete the JJPVA DI program and failure to obtain their ACEND DI Verification statement.

SPRING 2023 MATCH OPEN HOUSE DATES
Open houses will be conducted virtually due to precautions taken for COVID-19.
Open House 2022-2023 For Spring 2023 Match

- 11/18/2022 at 10 AM
- 12/9/2022 at 1 PM
- 01/13/2023 at 10 AM
Email verzhine.owens@va.gov at least 1 week prior to request log-in information.
Becoming a Registered Dietitian (RD)
Becoming an RD is a five-step process. The dietetic internship is step 2.

To be eligible for the dietetic internship, you must first complete an undergraduate or graduate ACEND-accredited Didactic Program in Dietetics (DPD). The DPD provides all of the prerequisite and core dietetics courses needed for preparation for the supervised practice portion of the RD training. The supervised practice portion is completed during the dietetic internship.

After completing the dietetic internship, you must pass the national Registration Examination for Registered Dietitians, which is administered by the Commission on Dietetics Registration (CDR).

In most states, graduates must also obtain state liscensure or certification to practice. For more information about state licensure and certification visit this link: https://www.eatrightpro.org/advocacy/licensure/professional-regulation-of-dietitians

For more information about educational pathways to become a RDN

click here

.
Additional Note: Effective January 1, 2024, the Commission on Dietetic Registration (CDR) will require a minimum of a master's degree to be eligible to take the credentialing exam to become a registered dietitian nutritionist (RDN). In order to be approved for registration examination eligibility with a bachelor's degree, an individual must meet all eligibility requirements and be submitted into CDR's Registration Eligibility Processing System (REPS) before 12:00 midnight Central Time, December 31, 2023

. For more information about this requirement visit CDR's website:

CDR Graduate Degree.
Accreditation
The program is currently granted continued Accreditation by the Accreditation Council for Education in Nutrition and Dietetics (ACEND)
Accreditation Council for Education in Nutrition and Dietetics (ACEND)
120 S Riverside Plaza, Suite 2000
Chicago, IL 60606-6995
Telephone: (312) 899-0040 or (800) 877-1600
www.eatrightpro.org/acend


Page Updates: August 2022
return to top