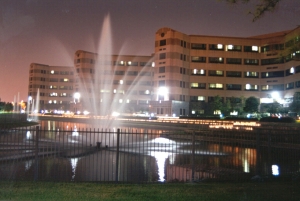 The Michael E. DeBakey Department of Veterans Affairs Medical Center (MEDVAMC) offers approximately a 50-week accredited Dietetic Internship Program with a general emphasis that is combined with a  Master's Degree Program at Texas Woman's University (TWU). Supervised practice experiences are offered in accordance with practice areas of registered dietitians at the Michael E. DeBakey VAMC and several affiliated institutions. Dietetic interns are paid a generous stipend and are eligible to take the Registration Examination for Dietitians upon completion of the dietetic internship portion of the program.
Dietetic interns take a total of 24-36 credit hours at TWU during the first academic year (August through August), generally twelve-thirteen credits each semester. During the remaining semester, students complete the Master's Degree. Upon completion of the internship (August), interns commonly accept employment as they complete the remaining academic requirements for the Master's Degree.
Almost 700 registered dietitians have completed the accredited dietetic internship at the MEDVAMC since the program began in 1952. These master's prepared registered dietitians are sought by employers throughout the country for positions in medical nutrition therapy, community dietetics and foodservice systems management.
Open House: Each year, the MEDVAMC hosts Open House sessions which provide attendees with the opportunity to learn all about our program, tour the medical center and meet many key people involved in the program. Preceptors, faculty, and interns will all be on hand to meet with those who attend. For those unable to attend, visitors are welcome throughout the year and small group tours can be arranged. Two informational sessions are planned for this year. If you would like to attend, please RSVP to Kristy.Becker2@va.gov at least one week prior to the event.
Friday October 25, 2013@ 1:00 pm
Friday January 10, 2014 at 1:00 pm
To get the most out of this event, please review the information posted on the program's website beforehand.
Important Dates for Applicants for the 2013-2014 Class:

Application  Deadline: February 15, 2014
Read an important personal message from the Program Director.