Thank you for your interest in the Minneapolis VA Health Care System Dietetic Internship. Our Dietetic Internship Program is a 42 week program with a Medical Nutrition Therapy concentration.
The internship program provides 1680 hours (mid-September - July) of rotation in clinical dietetics, food service management and community nutrition. Approximately 1450 hours of supervised practice, 80 hours of didactic classes and 150 hours of vacation/federal holidays make up the internship year.
The professional staff of the Minneapolis VA Health Care System Nutrition and Food Service Department administers the program. Registered Dietitians participate in curriculum development in their specialty areas, the development of evaluation procedures and forms and will be the preceptors of interns. Staff physicians, nurse managers and practitioners, clinical specialists, therapists and pharmacists of various specialties and services provide advice and information that can be incorporated in to the training experience. Staff of affiliate facilities will be preceptors for those rotations they supervise and assist in curriculum development of those rotations. No credit is given for assessment of prior learning.
Open House Information
We are pleased to provide you with the opportunity to come and learn more about our Dietetic Internship Program. Open house attendees will be given a detailed program overview, a tour of the facilities and will have a chance to meet the preceptors, graduates of the program and current interns.
When: December 6, 2013 1 pm to 4 pm  We will start promptly at 1:00.
Where: Minneapolis VA Health Care System, Room 4T 111-113
Enter the outpatient  entrance and take the elevators to the 4th floor, 4T 111-113 are in the Education Service directly across from the elevators.
RSVP (More Information): Contact Heidi Hoover at 612-467-2566 or at heidi.hoover@va.gov.
About the Minneapolis VA Health Care System Dietetic Internship (MVAHCS)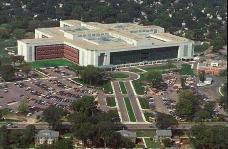 The MVAHCS operates 261 acute care beds as well as a 104 bed extended care unit. This building also housed numerous outpatient clinics and medical research laboratories. Over 600,000 outpatients are seen yearly. The building itself occupies 7 acres and has a 500-foot facade. There is a  30 bed Spinal Cord Center which opened fall of 2009.
The MVAHCS offers a comprehensive range of specialized programs including chemical dependency treatment, cardiac catheterization and surgery; traumatic brain injury; HIV clinic; geriatric research, education and clinical center; nuclear medicine; hemodialysis and peritoneal dialysis; and women's clinic. Patient care is augmented through the availability of state-of-the-art medical equipment. Extended care programs such as hospital-based primary care, adult day health care, day treatment canter and the program for traumatic stress recovery emphasize the medical center's commitment to patient education and outpatient care.