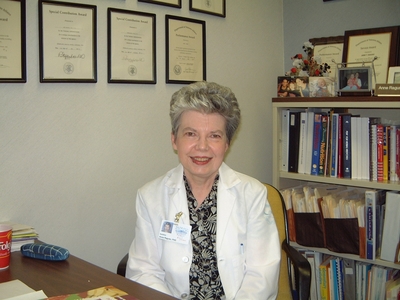 I am happy to be able to share with you information about the Dietetic Internship Program at the Louis Stokes Cleveland Department of Veterans Affairs Medical Center (Louis Stokes CVAMC). This Dietetic Internship is part of the 16-month Coordinated Dietetic Internship/Master's Degree Program (CDI/MDP) established in 1965 at Case Western Reserve University (CWRU). The program has a long history of preparing outstanding dietitians who go on to pursue many different avenues of professional practice. I am proud to say that we are one of the few programs that offer supervised practice experiences in nutrition therapy, foodservice systems management and community practice and a single concentration in Research Processes and Applications. The concentration is compatible with the mission and goals of the program and creates a unique opportunity for you to become comfortable with the research process.
A stipend of $14,858 is paid over the first 11 months of the program while students are completing the accredited dietetic internship. The remainder of the time (5 months) is spent as a full-time graduate student at CWRU. It is our opinion that a master's degree is vital for anyone who wants to advance quickly in any practice area.
Students have told me recently that they have been discouraged from applying to programs that offer stipends because "They are too competitive." While it is true that we are seeking excellent students, I am happy to review your application if you meet the academic criteria (3.0 GPA). You should also be aware that we do not limit the number of students we will accept from a single school. There is no application fee so do not hesitate to submit your material.
You will be eligible to take the Registration Examination for Dietitians after completing the dietetic internship portion of the program. To have both the master's degree and registered dietitian credential upon completion of the 16-month program will enhance your marketability as you seek your first professional position.
In planning for the future, keep in mind that we will assist you to find employment in the government or private sector. Opportunities for career mobility abound! The starting salary at VA Medical Centers is at least $47,448 and may be higher in certain geographic areas. In Cleveland, the starting salary is $49,327 and increases to $59,681 after one year.
If you have any questions, you are welcome to contact Lois Lenard (216-791-3800 ext 4371) or Lois.Lenard@va.gov.